What if everyone on presbytery staff
*and* at the churches could start every daily task with the information they need
right at their fingertips?
From anywhere they can get on the web, anytime.
in-

C

®

is an end-to-end solution that makes this possible.

It's custom-made specifically for a presbytery office.

It's designed to make it possible for a small team to "live in the present tense" with a constant flow of changing information that must be updated, accessible to presbytery leadership, printable, and ideally shared online for the churches – day after day.

It provides the back-end database for the presbytery office, but it also automatically produces a Presbytery Web Directory

so your churches can immediately get your updates – with zero extra publishing effort.
in-C® is short for "in context."

in-C® is designed to collect unlimited concurrent roles for each person over time so it can show you every way a person has served on one page in one place, and it can show you every person related to a church on one page in one place –
in context.
This includes committees people have served on, events they've attended, renewal terms, boundary training status, and much more.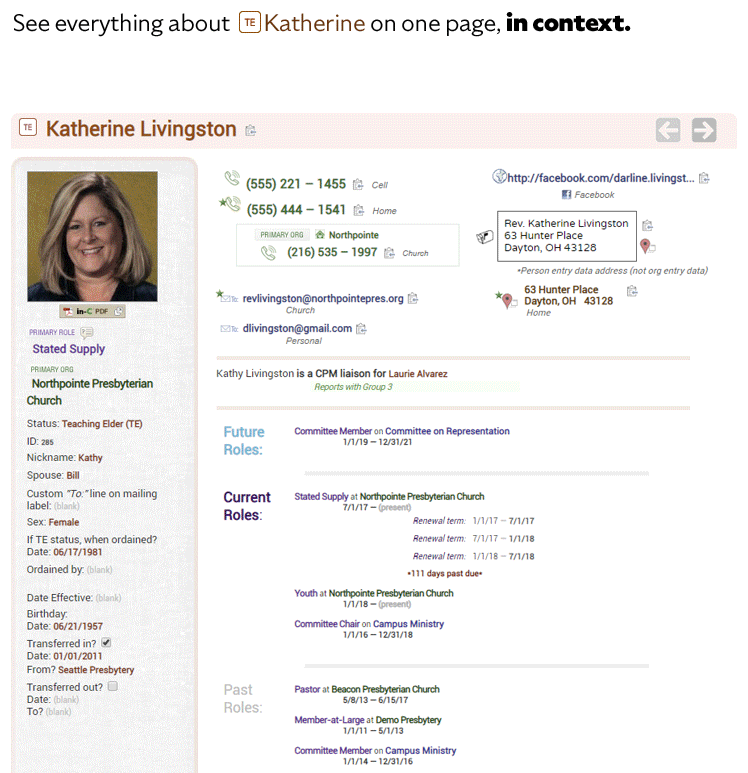 This is the only solution that preserves a history of how people served over time, and where, and the only solution that can show it to you all together in one place in a point-and-click layout that doesn't require any technical skill to use.
See and explore your information like you never have been able to before.

Be more productive with less effort.


When you update your data using in-

C

®

, you're * automatically * populating a Presbytery Web Directory

for your churches where they can get the immediate changes, and also download printable PDF directories and rosters that in-

C

®

made without you doing anything that are up-to-date for that day.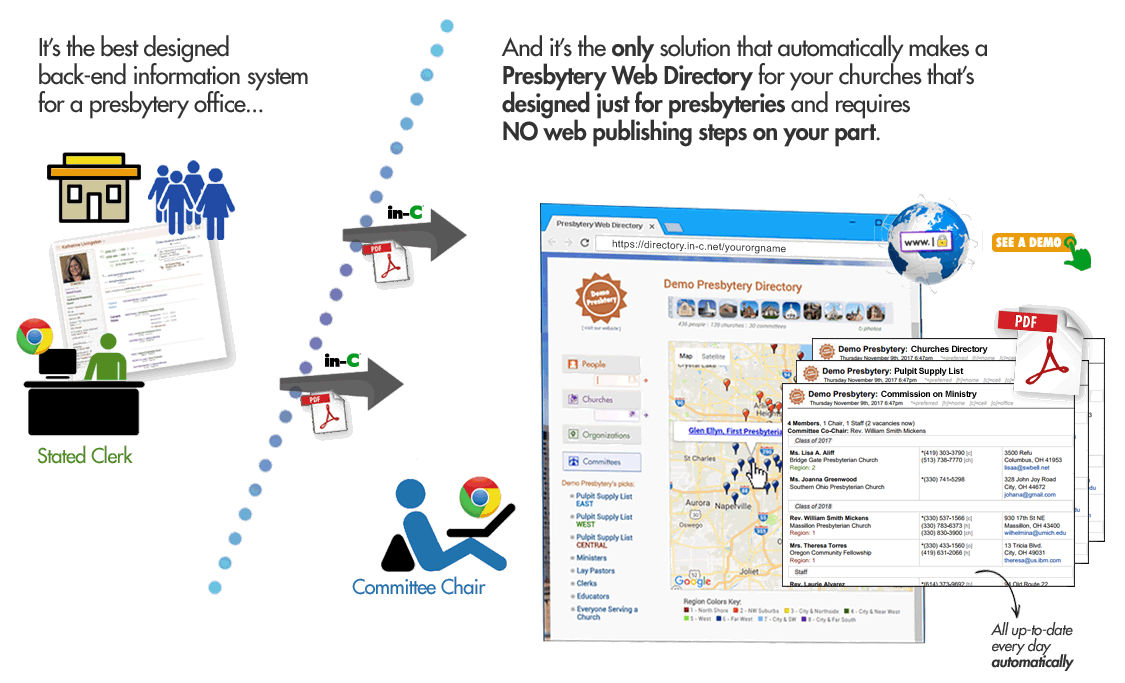 Daily publishing hurdles for the staff are eliminated.
To preview how in-

C

®

makes daily PDFs automatically, you can download:Friday February 15th's All Churches PDF Directory


or Friday February 15th's
All Committees PDF Directory

or Friday February 15th's
All Ministers PDF Directory

"I have loved working with in-

C

®

. The best part for me is that I can securely work on it from anywhere! The level of detailed information that is in one place for all of our staff to access anytime is a wonderful asset to our presbytery. The customized lookups and phenomenal customer support can't be beaten. I wish we had switched over to in-

C

®

sooner!"
Theodora Pounds, Editor
Presbytery of New Covenant

"I'm announcing a new youth leadership event
and I need the email address for every youth director, please?"
This should not be a hard (or time-consuming) request to fulfill.
With
in-C®
, you simply: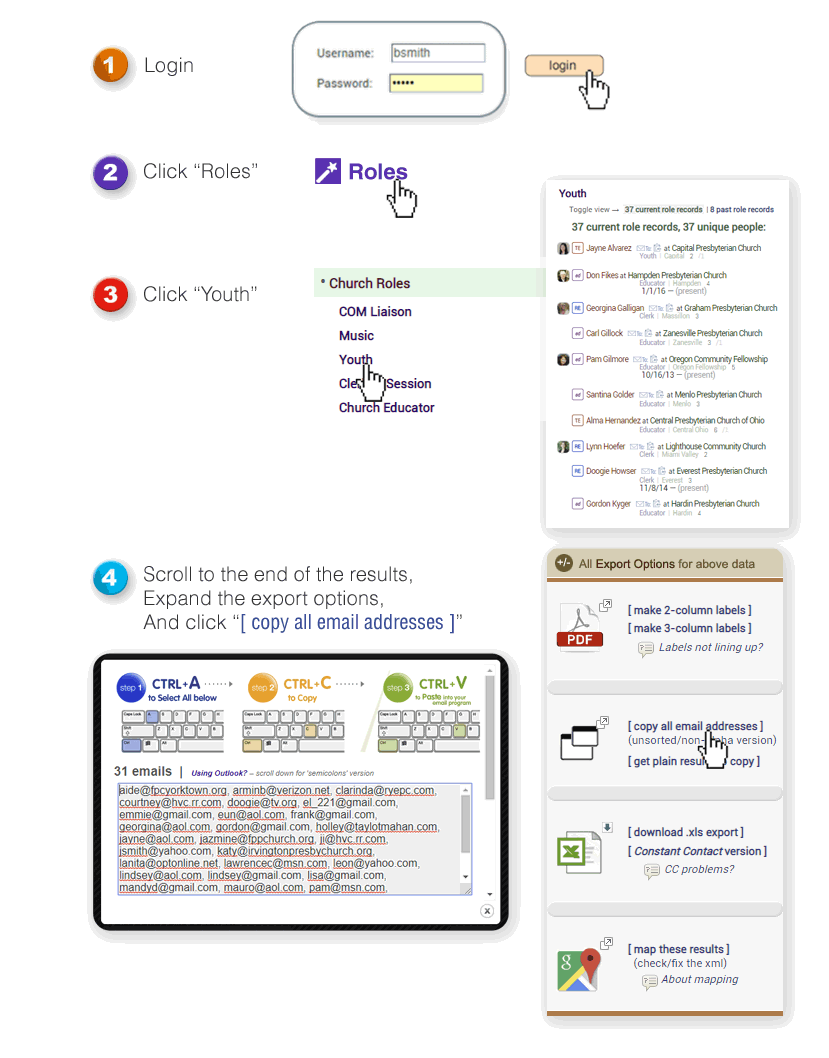 Because
in-C®
is
roles-based
and designed just for a presbytery, there are countless scenarios like the above request that are very easily accomplished. Getting organized today means you're ready to accommodate unpredictable needs and requests like this in the future.
...Dynamically
, in just a few clicks, based on the many roles you continue to collect for each person over time.
As you can see in the
export options
above – with the same amount of effort you could have
printed mailing labels
,
exported all the data to excel
(mail addresses, phone #s, etc.), or even
placed them all on a google map
. You can do this for
every
result list that you pull using
in-C®
.
"Having now used
four different database systems
on staff in
two different presbyteries
, I am convinced that
in-
C
®
has the
best implementation of the features that presbyteries need to further their mission of supporting congregations
in their witness to the Gospel."
Rev. C. Anderson James
Associate for Small Church Ministries and Technology
Presbytery of New Hope
in-
C
®
currently manages the data for
18 presbyteries
–
Click here to see a map of where
–
1,500+ churches
,
35,000+ people
and
65,000+ role records
– including for
Grace Presbytery
and
The Presbytery of Coastal Carolina
,
the two largest presbyteries in PCUSA.
Organize,
modernize,
and empower
your entire presbytery
in a seamless transition
that takes less than
one month.