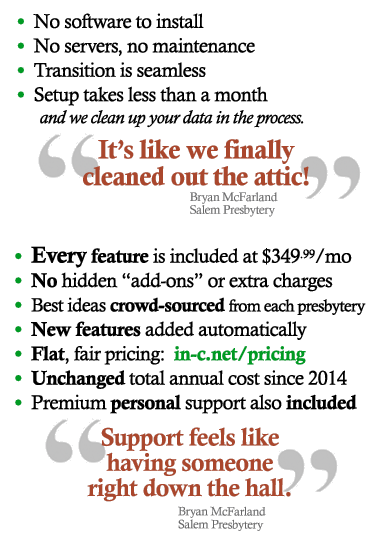 Flat, Annually Consistent pricing:
The one-time flat set up cost is based on the size of your presbytery:
One-time Flat Setup Cost
$49.99-per-church* setup
*For example: The One-time Flat Setup Cost for a presbytery that has 87 churches (and worshipping communities) is $4,349.13.
We will make the database export of your current data for you during a screen-sharing session and send it to ourselves if you don't want to export it on your own. We manually review all of your legacy data and work with you to set up and customize the in-C® environment that best serves your unique situation. When we're done, you'll be fully up-and-running in in-C® before your subscription starts.
Monthly Subscription Price
$349.99/month
Monthly Subscription Payments are exchanged by automatically recurring electronic check (ACH) transactions on the first of every month for that month. Cancel any time before the next billing in the first 6 months. Each renewal thereafter is for a 6 month term. Note: A 2.9% surcharge applies (3.5% for AMEX) if payment made by credit card instead of electronic check.
The total annual cost of in-C® is unchanged since launch in 2014.
"The cost of the service has been minimal because it has saved us so much time in preparing, printing, and mailing of directories; updating corrections in the directories; keeping churches up to date with information; having a precise map online of our churches; and so much more."
Edd Breeden, Treasurer
San Jose Presbytery
There are no hourly "per-incident fees" for responsive, prompt, personal support, no "add-on features" to unlock at a new unexpected price, and no hidden extra costs.
Our unparalleled standard of ongoing premium support is included (Read our Reviews). As we work with other presbyteries to continue to add functionality and tailor the best experience, you benefit from each ongoing upgrade for the same unchanged rate – with no software upgrades to perform or configure.
We closely review and migrate all of your legacy data by hand, and with your direction, set up a fresh start in in-C® for you – so that your transition is seamless.
The two Web Directories that run automatically off your current in-C® data are included with the regular service price.
– The Public Churches Web Directory, and the passphrase-protected Presbytery Web Directory.
Premium support, customizations, regular upgrades, full daily/weekly/monthly backups, and every feature is included in one known, budgetable annual price.
"The
conversion and setup
process was worth the time, effort, and expense, as we are now able to retrieve data and connect with people in ways that we almost couldn't imagine before.
Excellent new features
keep getting added month after month, so the value to us only keeps going up!"
Rev. C. Anderson James
Associate for Small Church Ministries and Technology
Presbytery of New Hope
Building a relationship with CWS is personal. We are the opposite of the "corporate gym membership model" of sales where a pushy salesperson tries to collect as many signups as possible and then could care less if they ever see you again. in-C® isn't a bulk product for the masses, it's a comprehensive solution that we customize to fit your unique situation. We want the solution to work for you in the short and long term and we work with you along the way to ensure it does. If you find a situation where something could work better, instead of hacking a workaround or "living with it" we want you tell us about it so we can show you the best approach, or possibly make upgrades. As collaborative improvements to core in-C® functionality are implemented (ie good ideas from other presbyteries) they are automatically available to you at your next login. There is no complicated "add-ons" pricing, no limited features to purchase or unlock, no software upgrades to purchase, never any software to re-install, and no overhead IT costs.
We make sure in-

C

®

is the right fit for your presbytery,
free of charge, before you sign up
Before exchanging any payment whatsoever, we extensively review in-C® together using your demo login. By interacting with fully populated sample data, we can 'test drive' all of the requirements you know you'll have. If there is a feature missing that you need, give us a chance to implement it before you pay a cent. You should be fully satisfied with the available features and functions of in-C® before exchanging the one-time flat setup cost to begin the import of your actual data.
No monthly charge until your setup is complete
Begin using your new, completed in-C® login without any monthly charge. Monthly subscription does not begin until the next first day of the month after we have finished importing your data and completing your initial customizations.
Easy, automatic debit billing via electronic check
Monthly cost is exchanged by automatically recurring electronic check (ACH) transaction on the first of every month for that month. Cancel any time before the next billing in the first 6 months. Each renewal thereafter is for a 6 month term. Note: A 2.9% surcharge applies if payments are made by credit card instead of electronic check. See an example of the in-C® Payment Authorization Form.
Are there ever any additional charges?
Not ever, for the comprehensive in-C® platform and services described herein, including the two ready-to-go Web Directories (your public churches web directory, and your protected presbytery web directory). Please Contact Us to request your in-C® demo login today, where you can see and use specifically everything the platform provides.
There are no hidden "add-ons" fees or features to "unlock". Our platform significantly exceeds the competition without exceeding the price. We are not more expensive than ACS for example, but we address multiple shortcomings of that solution for a presbytery environment.
Centerforward Web Services, LLC does specialize in custom services, so additional specialized custom services could be available if you had such a need. It is our approach however to continuously upgrade in-C®, implement new features, and share them automatically with all presbyteries at the same inclusive price. Were you to have a very custom/special request for additional services, CWS would research the unique scope of your need and propose separate monthly and/or per-project billing for your project based on the standard CWS hourly rate ($90/hr – See Our Services).
The upgrade to in-

C

®

is worth the investment
.


[ Read our reviews from other presbyteries ]
"
in-
C
®
is a vast improvement over our previous product, ACS.  It is flexible, easy to manage and much more accessible to all of our staff.  Response time from the
in-
C
®
team is exceptional. The
Presbytery Web Directory
has connected us throughout the Presbytery which is more efficient, always available and saves staff time."
Elder Jean L. Kaiser, Administrative Assistant
Hudson River Presbytery
"We are thrilled with our investment and its possibilities for our Presbytery!"
Jan Krause, Administrative/Financial Assistant
Presbytery of Coastal Carolina